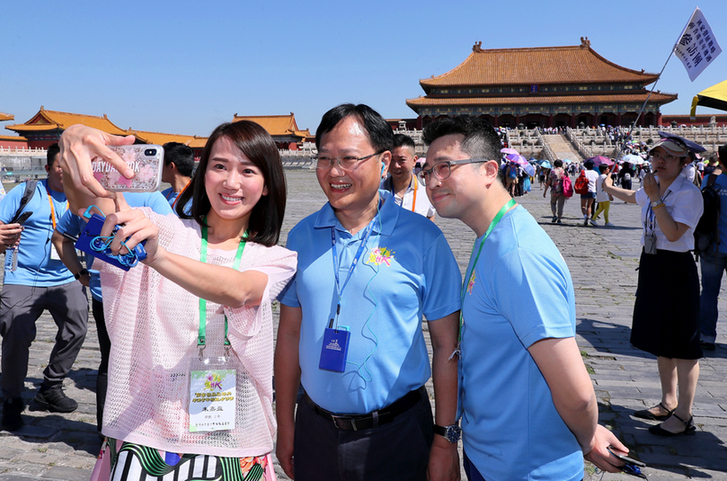 A delegation made up of around 150 young people from a variety of sectors in Hong Kong visits the Palace Museum in Beijing to learn about Chinese history on Friday, the last day of their five-day visit to the mainland. [Photo/China Daily]
  Vice-Premier Han Zheng encouraged young people from Hong Kong on Friday to enhance their knowledge of the nation and pursue their careers considering both the special administrative region and the nation's development.
  Han, a member of the country's top political authority, the Standing Committee of the Political Bureau of the 19th Central Committee of the Communist Party of China, also called on the young people to contribute to the long-term prosperity and stability of Hong Kong and realize the Chinese dream of the great rejuvenation of the Chinese nation.
  Han made the remarks when meeting with a Hong Kong youth delegation in Beijing. The delegation of 150 included a cross section of the SAR's young people.
  Han said President Xi Jinping cares about youth development and has great expectations for Hong Kong's youth. A nation will prosper only when its young people thrive, Han said.
  Han also expressed his hope that the city's young people will be patriotic, persistent in realizing their dreams and committed to serving the SAR and the country.
  The delegation, of youth aged 18-35, was on a trip to Shenzhen, Wuhan and Beijing by high-speed rail this week with a special focus on the nation's booming innovation and technology industries.
  Delegation head Kenneth Fok Kai-kong called meeting Han of great significance as the young people learned that the country's development has set the stage for them to realize their dreams in a historic opportunity.
  Fok, who is a Hong Kong member of the National Committee of the Chinese People's Political Consultative Conference, the country's top political advisory body, added that it would make Hong Kong's youth-related work more inspiring.
  Andy Tsang Hin-lam, a freshman history major at the Chinese University of Hong Kong, said Han's remarks showed that the future of Hong Kong youth is not just limited to Hong Kong. He called on his peers in the special administrative region to broaden their horizons and take part in national development.
  Tang Chui-lee, a sophomore studying movie and TV production at Hong Kong Design Institute, said she learned that the country has provided great policies and resources, and young people should seize opportunities in a timely and proactive way.